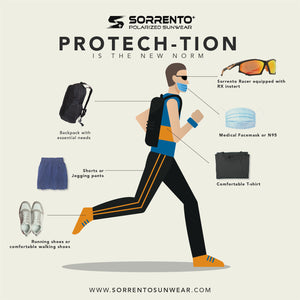 How Much Does It Cost To Be A Runner? | Sorrento Sunwear
HOW MUCH DOES IT COST TO BE A RUNNER? 
Running is the easiest sport to get in. There's almost no contest. For the beginner, it can literally cost nothing. Just throw on a pair of sneakers (you likely have at least one old pair), a comfy shirt and shorts, and you're all set. Getting started doesn't cost anything. Heck, you can even choose to run in flip flops or barefooted if you want.   
But if you really want to be serious about running, it'll cost you. For instance, marathons and other races charge fees (which is pretty obvious). And while you can run in basically anything (just not dress shoes), running shoes are specially made to make running more comfortable and enjoyable. A really great pair of running shoes can cost quite a bit. You can also include performance clothing.  
That said, this is a quick primer on how much it costs to be a runner these days.  
The Gear  
First and foremost is the gear. We start off with running shoes.  
A quick look at online outlets like Zalora gives you a lot of affordable options. Decent sneakers can cost a little under PHP 3000 at the minimum, and they can easily last you several years even with constant use. The more expensive ones are roughly PHP 8000 to PHP 9000, but these are often the top tier ones meant for enthusiasts and serious competitors. Hobby runners can make do with the most affordable options, no problem.  
Next, the clothes. These can easily be had for under PHP 2000. Clothing for runners is very straightforward, and dressing for the climate is vital. Let's break it down in bullets for easier digestion:  
When it's hot out, wear synthetic fabrics like nylon, rayon, polyester, and spandex to name a few. Natural fabrics like cotton will simply absorb your sweat and make you soggy. On the other hand, synthetic fabrics will keep you dry as much as possible in the heat. They wick moisture away from your skin, keeping you cool in the sun. 

 

A lot of runners (and athletes in general) swear by compression clothing. These clothes are figure-hugging and serve a great athletic purpose. The tight fit prevents the muscles from moving too much. Minimizing muscle movement helps with preventing energy loss and maintaining proper body alignment. It also helps improve blood flow to your muscles. 

 
As for extra gear, you can choose from items like eyewear. This can be especially helpful for folks who have poor eyesight and/or got problems with glare during morning runs. There are choices for high performance eyewear that also looks good. They can feature super flexible material to withstand high intensity workouts, and polarized lenses to protect your eyes from the sun's glare. They help get rid of all the visual distractions so you can focus on your run.  
Official Races/Competitions 
The serious runner competes. There's no sugarcoating it. If you want to be serious at this sport, you will relish testing your mettle against the best of the best. There are multiple events in the Philippines every year, and you have to stay updated mostly on social media to find them.  
Typical fun runs are almost a dime a dozen. Various charities, NGOs, and companies hold fun runs, mostly for a cause. One of the more popular runs for a cause is National Geographic's annual Earth Run. There are four different categories, according to runners' skill levels: 3K, 5K, 10K, and 21K. Each category has a different registration fee. You pay PHP 800, PHP 900, PHP 1000, and PHP 1450 in that order respectively.  
This is just one marathon and the registration fees vary. But you can expect the fees to be in roughly the same range as the NatGeo Earth Run. Larger-scale events with bigger-named sponsors will likely cost more, so you better be prepared for that.  
A Lifetime Of Running 
An interesting article over at the website Runners World computes the average cost of a lifetime of running. Considering a runner starts in his early 20s, he/she will have at most 57 years of running. If you're gonna go as low cost as you can (cheap shoes and clothes), you can spend as much as PHP 700k over your entire running life.  
If you plan to splurge a little bit, it will cost you as much as PHP 2.6 million over 57 years of running. That's if you will opt for the more expensive gear (shoes, clothes, and specialty eyewear). Both estimates include the race fees as well as your diet over the entire time you're able enough to run competitively.  
Final Thoughts 
You will have to shell out some money if you want to be a serious runner. The nutrition, competition fees, gear, and everything else will cost you quite a pretty penny. But you won't be a very effective runner if the glare cuts off your focus on the trail—or if your eyes are quite blurry to begin with.  
Enter specialty eyewear and Sorrento Sunwear's very own Transformer. These sunglasses feature polarized lenses that help protect your eyes from harmful UV rays and glare. And if you need graded lenses, you can have your very own custom-made and inserted into the Transformer. That's two eye care options in one. The sunglasses are also made of our patented Resiflex TR90 frames which are designed to bend but never break. So no matter how intense your workouts get, your sunglasses can withstand anything.  
Grab your own pair here or on Zalora and Lazada today!  
---